Dramatic Arts
Dramatic Arts is a popular subject at Lebone II College. Students are exposed to the Dramatic Arts from the Lower School and they can take it as a full-time, specialist subject through to matric. The subject covers the history of theatre and the practical application of dramatic principals, and also looks at all the technical aspects of theatre, from acting to costume and set design, make-up, lighting, sound and production elements.
Drama equips students with creative, problem-solving, conflict-resolution and communication skills. Elements of the subject such as sensory and emotional perception, and emotional intelligence promote self-confidence, while the historical and philosophical components are vital for a 21st century student.
Students who take Visual Art, Design and Dramatic Art also gain practical experience during drama and live productions, where the stage make-up, set and prop designs, audio and floor management are manned by the students themselves.
Past Drama Events
'Sarafina!'
From 15 - 17 August 2018 Lebone's Drama Department brought a very successful performance of 'Sarafina!' to the Lebone Amphitheatre.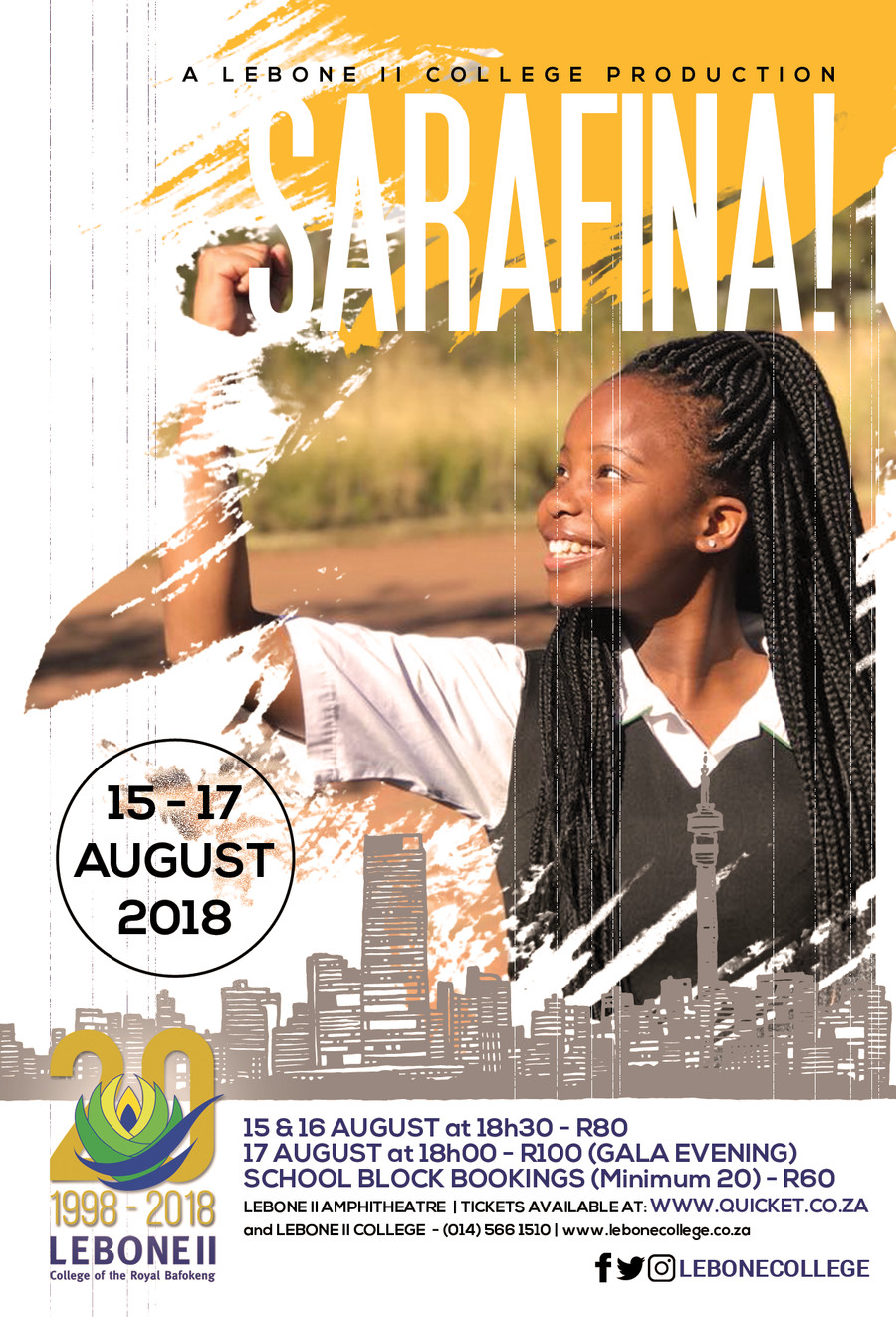 FEDA - Winners 2018
Lebone II College wins the 2018 Festival of Excellence in Dramatic Arts
On Saturday, 26 May 2018, Lebone II - College of the Royal Bafokeng was announced as the overall winner of FEDA 2018, with their production 'Malaika' which outshone 60 other schools in the festival. The annual FEDA (Festival of Excellence in Dramatic Arts) is a prestigious One Act Play Festival, which celebrates excellence in dramatic arts from the best drama departments in high schools across Gauteng and the North West. The festival is held each year at the Fringe Theatre at the Joburg Theatre complex, and the participating schools enter both original and published works into the competition.
FEDA took place from 7 – 26 May with each school's play performed before a sold-out theatre and a panel of judges, including multi-award winning director and actress Sylvaine Strike, veteran actors Craig Morris, Paul Slabolepzy and Hlomla Dandala, and Market Theatre CEO Ismail Mohammed. Lebone was nominated for 10 awards overall including Best Actress, Best Supporting Actress, Best Chorus, Best Costume, Most Cutting Edge, Best Director, Best Ensemble, Most Inspirational, Best Sound, Best Original Music/Singing and Best Production.
Four plays were selected for the final on Saturday, including the productions by St Stithians Boys' College and Girls' College, and the Saheti School. The theatre was packed to capacity as each school performed their production and as Lebone II College was announced as the overall winner of FEDA 2018. 'Malaika' also took the awards for Best Costume, Best Make-up, and Best Chorus.
'Malaika' is an original work, written by Lebone's drama students, which tells a particularly relevant, and poignant story relating to albinism. The extraordinary cast and crew of students, and their teachers, worked long and hard on this production, and the result is a beautiful and honest piece that is both provocative and inspirational.
The prize package for Best Production includes R10,000 for the school, and a professional performance run at both the Soweto Theatre and the Grahamstown Arts Festival. In addition, the talented student director, Naledi Mtshweni, has been offered a director's mentorship by Sylvaine Strike, and the entire cast has been invited to attend the Naledi Awards, by the CEO of the Naledi Awards Association and prominent theatre personality, Dawn Lindberg.
Congratulations to our Drama students and Drama Department on this wonderful achievement; we are exceedingly proud of you. Shine your light, Lebone!
"An extraordinary spectacle of original oral storytelling and cultural spectacle, using the dynamics of chorus. Beautiful and fluid transitions; confrontational and extraordinarily tender. A beautiful piece of theatre that astounds in its honesty about the power of love to overcome human prejudice and bloodlust. Deeply moving and provocative." - Wendy Coen, National Arts Association Adjudicator
"Nothing could have prepared me for the extent of talent that powers this very important theatre festival. These young voices are indicative of how extraordinarily in touch our children are with the pain, beauty, sorrow, delicacy, funniness, horror, complexity, hope, despair, shame, honesty, and uniqueness that make us South African. These devised works were conceived by the participants, with so many of them being of mind-blowingly high standard- some of which could have premiered in any theatre tomorrow. This is why Drama as a school subject is an indisputable necessity- it makes of the world an enlightened place, simple." – Sylvaine Strike, Director
"Tonight's final night of the FEDA Festival was a dynamic testimony that through the arts we'll be able to become more conscious of the other and become a more humanized society. Section 16 of the South African constitution guarantees us Freedom of Expression and Freedom of Creativity; and the participating schools have taken ownership of those Freedoms. The FEDA festival gives us the Freedom to Experience Democracy Actively.
The four plays staged tonight dealt with difficult subjects about identity, race, privilege, representation and power; and hats off to the students for engaging, challenging, inspiring us and for giving us the opportunity to envision the kind of society we can possibly have." – Ismail Mahomed, Chief Executive Officer at Market Theatre Foundation
"I was very privileged to have been invited to attend the finals of the 2018 FEDA festival in Johannesburg. Oh my gosh - what an amazing thing to have been part of last night. I had no idea what to expect, and was completely blown away at everything that we saw on stage last night. I own an event company in Johannesburg, and have worked in events for the last 30 years. I have been very privileged in my short life to experience many amazing theatre productions all over the world (in our own country, on the West End, on Broadway, in Last Vegas and in the East), and there are less than a handful that moved me like the piece from Lebone College last night did. I literally had goosebumps from the first minute to the last - and many of the minutes of their time on stage, I spent wiping away all my tears.
I grew up on the KZN South Coast and I feel so jealous that when I was at school many years ago, down on the South Coast, there wasn't anything that happened like we saw last night. In my next life, I want to come back as an actor, and one that goes to school at Lebone College!" – Paul Warner, Owner 24 Carrots
FEDA and 'Malaika' were showcased on SABC 1's iDentity - the segment starts approximately 24 minutes into the clip.